Image via Wikipedia
Yesterday, I was getting quite frustrated in Lotus Notes, trying to chase down one email item in the new threading feature. I was mouthing profanities until I realised that I had no hope of finding that email item. I had routed a duplicate of Lotus incoming items to my Yahoo inbox and was subsequently retrieving such items via the POP3 interface into Outlook. Why didn't I use connect Outlook directly to my Lotus Inbox via Lotus IMAP4 emulation? Well, because the Lotus IMAP4 interface gave up on me some months ago. Never found out why from our sysadmin team.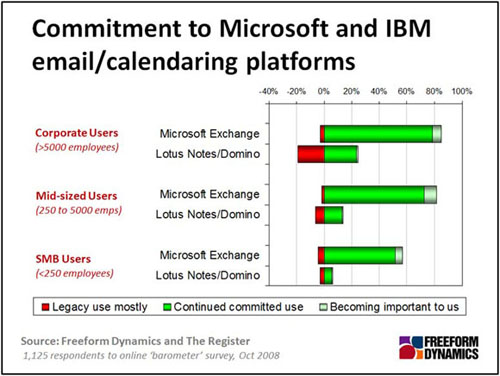 Anyway, so here I am in Outlook 2007 hunting for another email item. Blast! Really hard to find. Even though I have just installed Microsoft Desktop Search 4.0 (which even searches non POP3 local stores, even IMAP4 transitory things.) Even though I had Categorised items (but obviously forgotten to categorise this one).
Soo, I switch the Inbox View to Arrange By: From. That looks half promising. But I can't see the Preview and I have to scroll like crazy to get to another From: sender.
Lightbulb blinks on. View > Expand / Collapse Groups > Collapse All Groups
Aaah!